Winners of the contest "Pattaya SPA" dated November 30, 2018
New Year – is a time of real miracles, unreal emotions and, of course, time of pleasant gifts.
During these winter days we tried to give you as much warmth and positive attitude as possible. This holiday is eagerly awaited by children and adults around the world. That is why we glad to inform you the great news – our New Year Contest is over.

The main prize is:
• Two Gift Certificates of 20000 KZT and only positive emotions;
And now it's time to take stock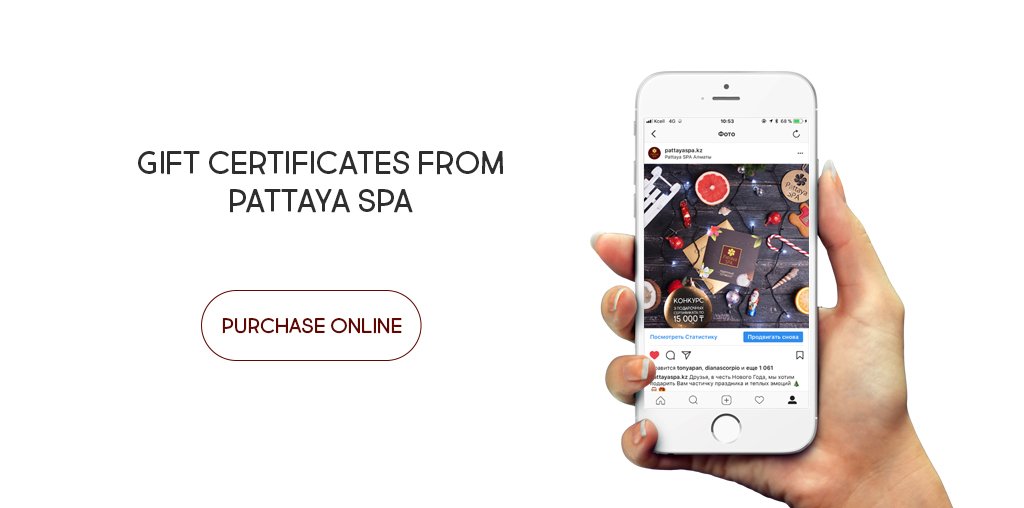 Maybe the daily routine and monotonous life affect your health. Immerse yourself in an unforgettable atmosphere of Thailand with "Pattaya SPA"!
Tag with "@" Your loved one in Instagram and get the chance to win one of two gift certificates from Pattaya SPA in amount of 20 000 KZT per each.
We are waiting for you at «Pattaya SPA» with new emotions, unique wellness programs and great mood.
https://www.instagram.com/di_uapova/

https://www.instagram.com/zholdaspekova/

Приобретите подарочный сертификат в Алматы и сделайте незабываемым день своим родным и близким людям, который они по-настоящему оценят!